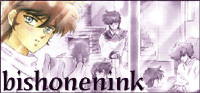 Welcome to Our House!

Update for December 1, 2016: The Advent Calendar is Live!
Navigation Info:
Shrines, advent calendars, recipes, et cetera are housed at Odessa Castle!


Ancient fic of dubious origins and quality can be found in the Archive, and everything else is located on the tabs.


For clarity's sake, author labels are Tenshi and llamajoy, regardless of what handle was in use when the fic was written.


CAVEAT LECTOR: stories may contain mature content, including (but not limited to): explicit sex; explicit language; incest; violence; bad cocktail recipes; drunken songcalls; inappropriate use of religious vestments. Stories are not rated and do not have individual warnings for plot or content, including spoilers. Bishink is generally NSFW and all fic is intended for an adult audience.